Satellites for Rocket Parts
The Russian Space Agency is holding hostage 36 satellites, asking for parts of the Soyuz rocket being held in French Guiana in exchange for releasing the satellites. The question is, why is Russia asking for these parts and why are they holding satellites captive?
It started when Dmitry Rogozin, former Roscosmos (State Space Corporation) chief, cut ties in retaliation with Europe when Western nations introduced unparalleled sanctions against Russia in efforts to change Russian "political behavior" in relations to the Ukrainian war. In doing so, it cut ties with a contract that was being held up with OneWeb, a British company that launches satellites along the Soyuz rockets.
When the company refused to cooperate with demands sent by Roscosmos, Russia decided to keep the satellites from the company and store them indefinitely in Baikonur, Kazakhstan in a launch center. The Indian Space Agency and SpaceX joined with Roscosmos to send the satellites into space while the 36 hostage satellites sit in a warehouse on the launch site.
Rogozin has resigned from Roscosmos, making the agency take more of a diplomatic approach to partnerships. Negotiations are moving slower than anticipated due to logistics that need to be figured out. For example, negotiators are trying to return to French Guiana for the rocket parts, but it is made difficult due to broken ties.
Whether or not Russia and Europe will partner again is yet to be seen and an agreement between them is not entirely impossible. Meanwhile, Russian rockets are running out of parts.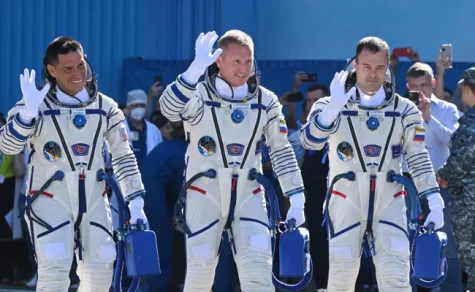 Photo blurb A Soyuz-2.1b rocket booster with a Fregat upper stage carrying British OneWeb satellites is being transported from an assembling facility to a launch pad at the Baikonur Cosmodrome. The launch is scheduled for 5 March 2022 at 01:41 Moscow time. (Photo by Roscosmos Press OfficeTASS via Getty Images)