Animal cruelty is far too common in today's industries. Texas ranks number one in America for the most Animal Cruelty related cases. Texas takes the lead with almost 7,000 animal cruelty offenses, moreover that is six times the national average. In zoos alone 75% of animals that are captured are abused, in addition to that their habitats are 100% smaller, as animal-protection-consult.com puts it.
The biggest contributor to animal cruelty continues to be the farming industry. Animals are exposed to physical pain, illness, and of course eventually death. Baby chicks are separated from their mother only for the chicks to be put into a blender, cows that suffer the flame of a heat rod at a young age and their death is even more degrading as they are fully conscious at the time of their death when their throat is slit. A pig gets their tail chopped off and their life comes to a gruesome end when they suffocate to death in a Co2 induced chamber. So how can you make the change? Go Vegan!
Studies show that being vegan contributed to 75% less greenhouse gas emissions than that of a meat-eating diet. A vegan diet supports weight loss, healthier skin, slower aging, fixes sleep insomnia, promotes low cholesterol, and lowers your chance of cancer. The FDA classifies processed meat as a Group 1, carcinogenic to humans, that means that the agent promotes cancer! Eating meat causes diabetes too. Red meat is high in insulin which enters the bloodstream and can cause diabetes when over consumed. Dozens of animals (cows, chickens, turkeys, pigs) per year per person are saved by choosing a vegan diet.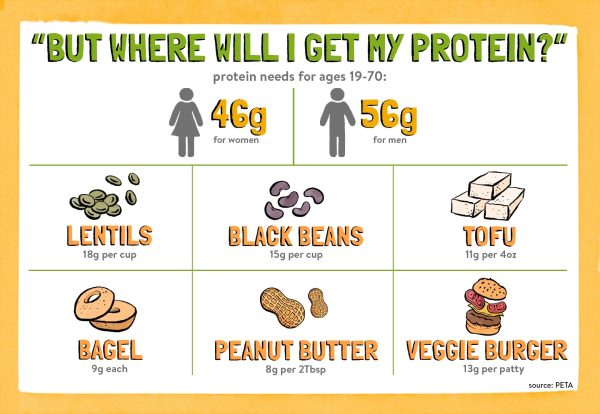 Story continues below advertisement
Controversy abounds the vegan lifestyle, but I'm here to tell you my personal story about vegan lifestyle. I started New Years Eve being pescatarian (Not eating meat but substituting it for fish and still eating dairy products). My mother and I pondered on the idea of being vegan for four years and on 2021 New Year's Eve we cut out meat products from our diet. It was hard seeing my friends eating chicken or going to restaurants that had steak on their menu and me and my mother had to order salmon, but nevertheless we progressed and successfully made it a whole year. While cheese, fish, and eggs were my favorite foods, it was great to have access to those dietary options … and living on the island made it easier to have fish on every menu at every restaurant we visited.
On New Years Eve of 2022, we made the decision to transition to an all plant-based diet. It was a little worrisome for me, knowing that fish, eggs, cheese, and my favorite sweets were off the menu. However, I have been a vegan since the start of 2023, and it has been going well. My mother and I sleep better. I have clearer skin and have dropped 40 pounds! My body functions remain the same with no animal cruelty involved in my lifestyle.
The misconstrued narrative that vegans don't get enough protein to build muscle is false. The food I eat like vegan meat, fruits, and vegetables are full of natural protein and high in fiber. Both a meat-eating diet and a vegan diet promote the same amounts of protein. I ask you to join me in stopping this unnecessary animal cruelty: fight the climate crisis and make a difference. Go Vegan!