With all the weather-related catastrophes pounding the planet, an earthquake devastated the country of Morocco killing more than 3,000 people. The city of Marrakech was hit the hardest by the magnitude 6.8 tremor on Friday September 8th at around 11.11 p.m. Twenty minutes later a magnitude 4.9 aftershock hit and caused more devastating damage to the area.
This earthquake occurred due to the collision of the African and Eurasian tectonic plates at a shallow depth which made the earthquake more dangerous. Search and Rescue teams were out with dogs searching for bodies and survivors.
Khadija Fairouje lost her daughter and three grandsons when their house collapsed due to the earthquake. "Nothing's left. Everything fell," said her sister, Hafida Fairouje.
In Amizmiz, a town in Marrakech, help was slow to arrive, and it was not enough for the citizens that live there. "It's a catastrophe,' said villager Salah Ancheu. "We don't know what the future is. The aid remains insufficient."
Story continues below advertisement
This was the strongest earthquake to hit Morocco in over 120 years, according to United States Geological Survey records dating back to 1900, but it was not the deadliest earthquake to hit the North African country. In 1960, a magnitude 5.8 earthquake hit near the city of Agadir, killing around 12,000 people.  That temblor forced Morocco to change construction regulations, but many structures and homes were not built to withstand such temblors.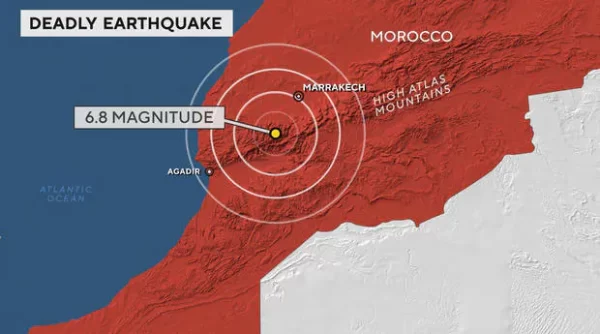 French volunteers put together a search and rescue team to help look for people buried in the rubble. The only problem is that Morocco did not accept international aid from France after the earthquake. "We don't need numbers. We need speedy work to get to the population. We have enough people to do that," said Moroccan Sen. Lahcen Haddad in an Associated Press interview. "If there is aid, it will be later," he added. "In any case, for those people who are impatient to help, there will be enough work for everyone."
Germany and the Czech Republic were also not taken up on their offers to send search and rescue teams to Morocco. "It could be political, religious or any other reasons," Vladimir Vlcek, director general, told Czech public radio Tuesday. "The longer it's delayed, the slimmer the chance for someone to survive under the rubble."