Japanese seafood is now banned in China as the Fukushima power plant released radioactive waste into the Pacific Ocean. Japan faces global backlash from other countries, and even its citizens, by making this controversial decision. Long-time rival, China, argues that the ban on seafood from Japan is for the safety and health of China's population. In 2022, "Japan exported seafood worth about $942.4 million (137.7 billion yen) to China" proving the effect this ban may have on both the seafood industry and the Japanese economy, according to Navin Singh Khakda of the British Broadcasting Corporation. However, Japan argues that China refuses to assess the science and would rather use this situation as a political tool to gain global support.
After a nuclear meltdown in 2011 because of a tsunami caused by a giant earthquake at sea, overheating reactors became a problem due to a destroyed cooling system. Since then, the Fukushima power plant has continuously produced radioactive materials that contaminate the water and has now reached maximum storage capacity. The amount of radioactive waste produced is stored in 1,000 tanks and is equivalent to the water held in 500 Olympic swimming pools. As a result, August 24, 2023, was the first of many releases scheduled over the next 30 years.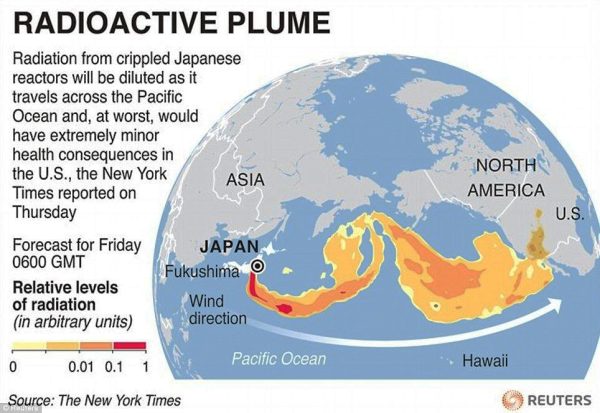 The radioactive element in this contaminated water is tritium, the weakest form of all radioactive isotopes. As stated by Navin Singh Khadka from the British Broadcasting Corporation, a nuclear specialist, Shaun Burnie confirmed that although it is weak, "tritium can have 'direct negative effects' on plants and animals if ingested, including 'reduced fertility' and 'damage to cell structures, including DNA'".
Story continues below advertisement
Japan is attempting to reduce public concern and work within environmental guidelines by releasing the contaminated water in a diluted form. Although some experts and the International Atomic Energy Association (IAEA) both verify that tritium levels in the water are well within regulation, others argue that there is no telling what environmental impacts it may have. Emily Hammond, a professor at George Washington University specializing in energy and environmental law, stated "One can have a lot of faith in the IAEA's work while still recognizing that compliance with standards does not mean that there are 'zero' environmental or human consequences attributed to the decision".